Allah-Rakha Rahman (born A. S. Dileep Kumar on 6 January 1967) is an Indian composer, singer-songwriter, music producer, musician and philanthropist. Rahman's works are noted for integrating Eastern classical music with electronic music, world music and traditional orchestral arrangements. Among his awards are two Academy Awards, two Grammy Awards, a BAFTA Award, a Golden Globe, four National Film Awards, fifteen Filmfare Awards and thirteen Filmfare Awards South. Rahman's body of work for film and stage has given him the nickname of "the Mozart of Madras", and Tamil commentators and fans call him Isai Puyal (English: the Musical Storm).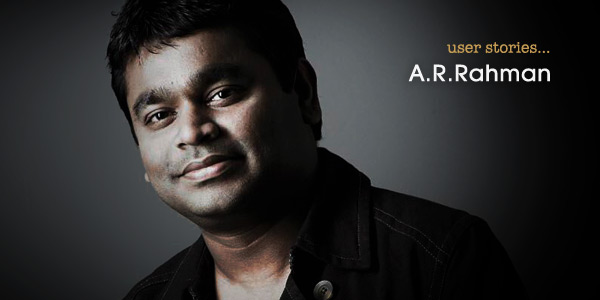 In 2009, Time included Rahman on its list of the world's most influential people. The UK-based world-music magazine Songlines named him one of "Tomorrow's World Music Icons" in August 2011. With an in-house studio (Panchathan Record Inn in Chennai) Rahman's film-scoring career began during the early 1990s with the Tamil film Roja. Working in India's film industries, international cinema and theatre, Rahman is one of the world's all-time best-selling recording artists. In a notable two-decade career, he has been acclaimed for redefining contemporary Indian film music and contributing to the success of several films. Rahman has become a notable humanitarian and philanthropist, donating and raising money for a number of causes and charities.
Early life
Rahman was born in Chennai, Tamil Nadu, India in a middle-class Tamil Mudaliar family. His father, R. K. Shekhar, was a film-score composer and conductor for Tamil and Malayalam films; Rahman assisted his father in the studio, playing the keyboard. After his father's death when Rahman was nine years old, the rental of his father's musical equipment provided his family's income.Raised by his mother, Kareema (born Kashturi), Rahman was a keyboard player and arranger for bands such as Roots (with childhood friend and percussionist Sivamani, John Anthony, Suresh Peters, JoJo and Raja) and founded the Chennai-based rock group Nemesis Avenue. He mastered the keyboard, piano, synthesizer, harmonium and guitar, and was particularly interested in the synthesizer because it was the "ideal combination of music and technology".
Rahman began his early musical training under Master Dhanraj, and at age 11 began playing in the orchestra of Malayalam composer (and close friend of his father) M. K. Arjunan. He soon began working with other composers, such as M. S. Viswanathan, Ilaiyaraaja, Ramesh Naidu and Raj-Koti, accompanied Zakir Hussain, Kunnakudi Vaidyanathan and L. Shankar on world tours and obtained a scholarship from Trinity College London to the Trinity College of Music. Studying in Chennai, Rahman graduated with a diploma in Western classical music from the school. Rahman was introduced to Qadiri Islam when his younger sister was seriously ill in 1984. He converted to Islam (his mother's religion) with other members of his family in 1989 at age 23, changing his name from R.S. Dileep Kumar to Allah Rakha Rahman (A.R. Rahman).
Career Soundtracks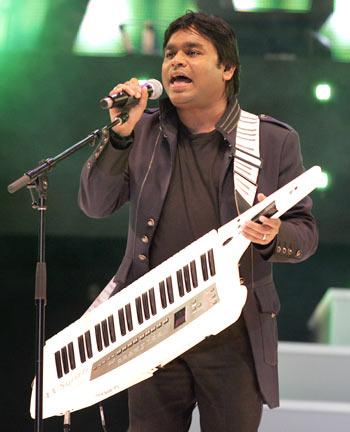 Rahman's film career began in 1992 when he started Panchathan Record Inn, a recording and mixing studio in his backyard. It would become the most-advanced recording studio in India,and arguably one of Asia's most sophisticated and high-tech studios.
He initially composed scores for documentaries and jingles for advertisements and Indian television channels. In 1987 Rahman, then still known as Dileep, composed jingles for a line of watches introduced by Allwyn. In 1992, he was approached by director Mani Ratnam to compose the score and soundtrack for his Tamil film, Roja.
Cinematographer Santosh Sivan signed Rahman for the Malayalam film Yodha, directed by Sivan's brother Sangeeth Sivan and released in September 1992. The following year, Rahman received the Rajat Kamal (Silver Lotus) award for best music director at the National Film Awards for Roja.
The films' score was critically and commercially successful in its original and dubbed versions, led by the innovative theme "Chinna Chinna Aasai". Rahman followed this with successful scores and songs for Tamil–language films for the Chennai film industry, including Ratnam's politically-charged Bombay, the urban Kadhalan, Thiruda Thiruda and S. Shankar's debut film Gentleman (with its popular dance song, "Chikku Bukku Rayile"). Rahman collaborated with director Bharathiraaja on Kizhakku Cheemayile and Karuththamma, producing successful Tamil rural folk-inspired film songs; he also composed for K. Balachander's Duet, which had some memorable Saxophone themes. The 1995 film Indira and romantic comedies Mr. Romeo and Love Birds also drew attention. Rahman attracted a Japanese audience with Muthu's success there. His soundtracks are known in the Tamil Nadu film industry and abroad for his versatility in combining Western classical music, Carnatic and Tamil traditional and folk-music traditions, jazz, reggae and rock music.
soundtrack for Bombay sold 12 million copies worldwide,[38] and "Bombay Theme" would later reappear in his soundtrack for Deepa Mehta's Fire and a number of compilations and other media. It was featured in the 2002 Palestinian film Divine Intervention and the 2005 Nicolas Cage film, Lord of War. Rangeela, directed by Ram Gopal Varma, was Rahman's Bollywood debut. Successful scores and songs for Dil Se.. and the percussive Taal followed.